The agencies below specialise in letting beach huts. Please use the links to make contact with them. Additionally some huts are let out by their owners and their details can be found below.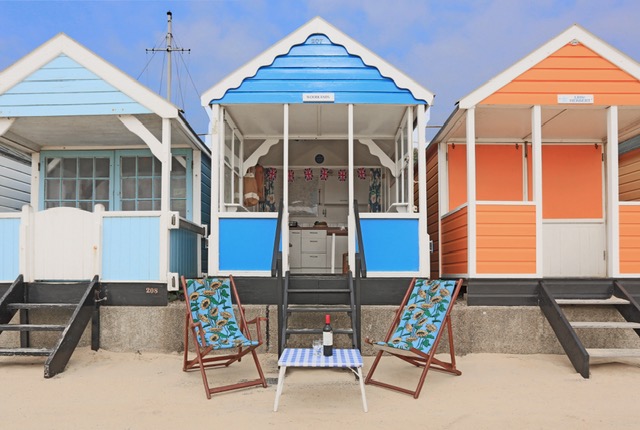 Durrants Holiday Cottages are a local holiday let agent based in the heart of Southwold. They let over 60 holiday cottages in Southwold and the surrounding area in addition to 20 Southwold beach huts, in desirable beach locations from Gun Hill to North Parade and across to North Beach.
Durrants Beach Hut Rental
beachhutsouthwold.co.uk -- Beautiful beach huts for hire in Southwold
southwoldbeachhut.co.uk -- Sandpiper beach hut
beachhuts.com -- Specialists in beach hut letting
Suzies cafe at the bottom of the steps below the sailors reading room lets out 5 or 6 huts, contact via Facebook Messenger.
Rent a Southwold Beach Hut Direct From The Owner
The following Southwold Beach Huts are let out by their owners: -
Morgan 162 at Centre Cliff

Morgan 162 at Centre Cliff

"Morgan" beach hut is located down the steps from The Lord Nelson pub with Suzie's cafe close by. The Hut is fully equipped for up to six people and includes Gas stove, Windbreaks, Cutlery, Table And Chairs, Chairs, Buckets and spades and Crockery.

For more details or to check availability and pricing please email Please enable Javascript to view this Email or call Jane Clarke on 07900401908.

---
Longshore Again 126 at East Cliff: Our lovely family beach hut

Longshore Again 126 at East Cliff

"Longshore Again" beach hut is below the lighthouse and St. James' Green with toilets and North Parade Kiosk close by. The Hut is fully equipped for up to six people and includes Chairs, Cutlery, Gas stove, Windbreaks, Table And Chairs, Crockery and Buckets and spades. An exceptional position nearby Suzie's Cafe and The Nelson.

For more details or to check availability and pricing please email Please enable Javascript to view this Email or call Sue Tayler on 07979 811390.

---